State Institute of Health & Family Welfare (SIHFW) Rajasthan, is an apex level autonomous training and research organization in the Health Sector of the State. The institute was established on April 19,1995 as a registered society (Reg. No.25/Jaipur/1995-96) by the Government of Rajasthan under Societies Registraion Act 1958.

Mission
The mission of the institute is committed to improvement in health care through HRD, Health Research, Consultancy, and networking aiming at enhancement in the quality of life.
1. Develop Human Resources for Health (HRH) through capacity building
2. Organization Development (OD) through operations research
Strategy
a) Enhancing the capacity of the HFWTCs
b) Enhancing the capacity of ANM training centers
c) Developing a pool of trainers through Training of Trainers (TOT).
d) Developing training program and modules on the basis of Training Need Assessment.
e) Contributing to organization development of Medical, Health and Family Welfare of the State Government through operational research.
f) Providing consultancy on issues related to health.
g) Conduct studies related to evaluation and impact assessment of various intervention by Health Care Delivery System.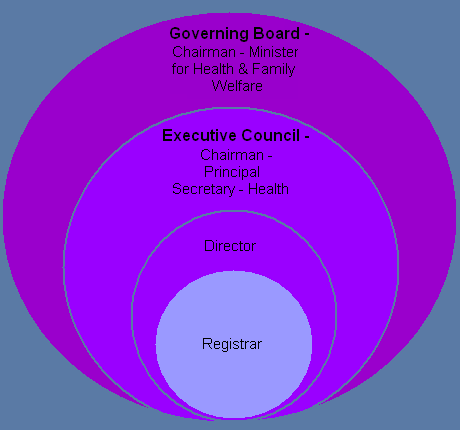 Governance
SIHFW Rajasthan, is governed by a Governing board chaired by the Health and F.W. Minister. The members on the Board include Principal Health Secretary, Finance Secretary, Secretary (FW), Directors of Medical, Health & Family Welfare, Director, HCM-RIPA, Principal, SMS Medical College and Director-Indian Institute of Health Management Research (IIHMR). The Director, SIHFW is the Member Secretary. Besides, three renowned and prominent trainers/ consultants/ social workers in the field of health and family welfare are nominated by the State Government.
Executive Council
Executive Council of SIHFW is chaired by the Principal Health Secretary, Medical & Health Department Government of Rajasthan. Members are all the Directors of Medical Health and Family Welfare Department, Dy. Secretary (Finance-Expenditure) Government of Rajasthan, renowned academician and a faculty member. The Director SIHFW is the Member Secretary.
Faculty
Beside the Director, there are five faculty positions in the institute. The nature of work in the institute demands specialization in Preventive and Social Medicine, Health Management, Pediatrics, Gyn. & Obstetric, and Health Communication.
The team of Institute possesses the expertise in providing consultancy for Health Services Research and capacity building in Health Management.
Campus
Institute is located in a sprawling campus of 4.4 hectare in the east of the Jaipur city in a scenic and serene area. The constructed area includes 6 training halls, 36 A/C rooms hostel with a 64 cover dining space, 10 faculty rooms, 2 halls equipped with separate work stations for administrative & support staff and 6 staff quarters and 2 guest houses. Overall built-up area is 4621.4 sq.m. The premises are adorned with big beautiful lawns and blooming flowers beckoning the attention of visitors. The plantation has been initiated with a vision to make the campus eco friendly and lush green.
Networking
SIHFW has established formal linkages with IIHMR, IIPS, IIHM, ASCI, VHAI, FRCH, TISS, PRB, PFI, EPOS, NACO, NIHFW and other institute and welcomes the collaboration with other ilk institutes.
The Institute is in the process of making its campus Wi-Fi.
Presently all faculty and staff computers are connected through LAN and have broadband facility.